>> | Welcome | Accommodation | Weddings | Excursions | Festivals | Location | Info | Booking
---




Premlanka Hotel
Dickwella Beach, Southern Sri Lanka
---
Friendly family run small hotel with all modern amenities, newly opened in 2009. Five en suite double bedrooms with balconies, set peacefully amongst coconut palms, about 400 paces from a safe, sandy beach. Just a 10 minute walk Dickwella town, but shielded from the bustle of the main Colombo–Hambantota coast road. Ideal for swimming or scuba diving; visits to temples and local events; excursions; ...or simply relaxing to the sounds of tropical birds and the sea.
---
Web Site Contents: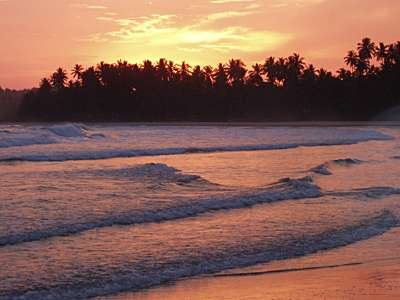 Sunset, Dickwella Beach.
---
Sitemap of Principal Web Pages:
---
Important: We Do Not Send Spam!
If you receive any "spam" emails which purport to originate from us, please delete them and accept our assurances that they are not sent by us.
Unfortunately it is very easy to falsify an email address.
We do not send "spam" emails.
---
Welcome | Accommodation | Weddings | Excursions | Festivals | Location | Info | Booking
---
Friendly & relaxing comfort at Premlanka Hotel, Dickwella Beach, Dikwella, Matara, Southern Sri Lanka.
© 2008–21. Prepared and published by Curlew Communications Ltd