>> | Welcome | Accommodation | Weddings | Excursions | Festivals | Location | Info | Booking
---




Premlanka Hotel
Dickwella Beach, Southern Sri Lanka
---
Friendly family run small hotel with all modern conveniences, newly opened in 2009. Five en suite double bedrooms with balconies, set peacefully amongst coconut palms, about 400 paces from a safe, sandy beach. Close to Dickwella town, but shielded from the bustle of the main Colombo–Hambantota coast road. Ideal for swimming or scuba diving; visits to temples and local events; excursions; ...or simply relaxing to the sounds of tropical birds and the sea.
---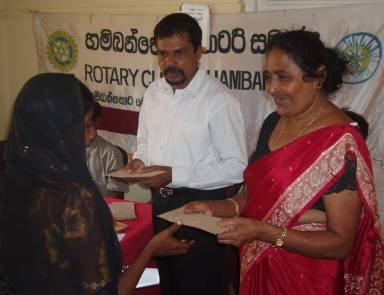 ---
Interviews with Prem:
The Janashakthi Self-Help Development movement.
The fierce civil war in Sri Lanka in the 1980s left many people in Southern Sri Lanka destitute and caused huge rifts between peoples; which further exacerbated the situation. Many of the men were involved in the fighting; away from home, killed or injured.
A group of women came together to form the Janashakthi Bank Society, a self-help micro-credit union with members from all communities and all cultural backgrounds.
See also: More about the Janashakthi Movement
---
Part 1: Founding the Movement: The Janashakthi Self-Help Development Movement was formed in the 1980s by women in the Hambantota district of southern Sri Lanka. The men were engaged in a brutal civil war, leaving women & families destitute. With a little outside help, members of Janashakthi in Godawaya & Hambantota gradually improved their lives and the district. Interview with "Prem" an original founder. First of three parts.
---
Part 2: Small Businesses: Having begun to resolve their major problems, the members of the Janashakthi Self-Help Development Movement in Hambantota started to form into groups of five women & start small businesses using micro-credit loans; generating cash for the members and the movement. They also found ways to improve education & health. Interview with "Prem" an original founder. Second of three parts.
---
Part 3: Expansion Nationwide: Sri Lankan government officers were very impressed by the success of the pioneering Janashakthi organisation in Hambantota. They decided to copy this Janashakthi organisation across Sri Lanka. In some areas, the organisation was renamed "Samurdhi." Meanwhile, Janashakthi members in Hambantota steadily improved their lives with better houses, water taps and electricity. Interview with "Prem" an original founder. Third of three parts.
---
Welcome | Accommodation | Weddings | Excursions | Festivals | Location | Info | Booking
---
Friendly & relaxing comfort at Premlanka Hotel, Dickwella Beach, Dikwella, Matara, Southern Sri Lanka.
© 2008–23. Prepared and published by Curlew Communications Ltd