>> | Welcome | Accommodation | Weddings | Excursions | Festivals | Location | Info | Booking
---




Premlanka Hotel
Dickwella Beach, Southern Sri Lanka
---
Quick link to Premlanka Hotel's Booking Page
Friendly family run small hotel with modern amenities, on the Indian Ocean coast just east of Dondra at Sri Lanka's southern tip. Newly opened in 2009; five en suite double bedrooms with balconies, set peacefully amongst coconut palms, about 400 paces from a safe, sandy beach. Close to Dickwella town, but shielded from the bustle of the main Colombo–Hambantota coast road.
Ideal for swimming or scuba diving; visits to temples and local events; excursions; treatments at nearby Ayurvedic centres ...or simply relaxing to the sounds of tropical birds and the ocean.
The legendary Andare, court jester to the eighteenth century Kandian King Rajadhi Rajasinghe, is said to have come from near Dickwella. Folk tales about Andare are still very popular throughout Sri Lanka.
Dickwella is a coastal market & fishing town, between Matara and Tangalle; Sometimes spelt Dikwella or Dikwalle; Also called Dikwella South.
---
---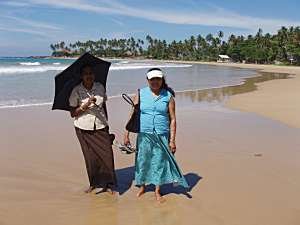 Strolling back to Premlanka Hotel, along the beach from Dickwella Town.
---
---
Welcome | Accommodation | Weddings | Excursions | Festivals | Location | Info | Booking
---
Friendly & relaxing comfort at Premlanka Hotel, Dickwella Beach, Dikwella, Matara, Southern Sri Lanka.
© 2008–21. Prepared and published by Curlew Communications Ltd