>> | Welcome | Accommodation | Weddings | Excursions | Festivals | Location | Info | Booking
---




Premlanka Hotel
Dickwella Beach, Southern Sri Lanka
---
Booking Details:
Please book by email, telephone or mail.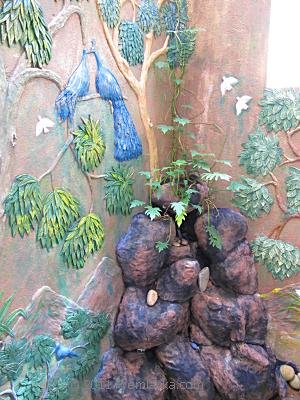 Indoor Waterfall, Premlanka Hotel,
Dickwella, Southern Sri Lanka.
Postal Address:
Mrs G.A. Premalatha
Premlanka Hotel
Pehebiya Road
Dickwella Beach
Dikwella
Matara District
Southern Sri Lanka
Telephone Numbers:
Time: Sri Lanka is 5.5 hours ahead of GMT:
Time = London's Winter time (GMT) + 5.5 hours;
Time = London's Summer time (BST) + 4.5 hours.
Answers to Frequently Asked Questions (FAQs).
---
Relax & enjoy our Sri Lankan experience. Relax and unwind to the sounds of tropical birds and the Indian ocean. Set in peaceful gardens amongst coconut palms, about 400 paces from a nice, sandy beach. Premlanka Hotel is a friendly family-run small hotel with all modern amenities. It is run personally by the English-speaking Sri Lankan lady owner. Just five en suite twin-bedded rooms with showers, toilets, ceiling fans, electric points and private balconies. All bedrooms have twin four-poster "canopy" beds equipped with full mosquito nets. These high-ceilinged rooms are cooled by sea breezes. The hotel is naturally cool, helped by the attractive "indoor waterfall garden" built into the stair well. Most bedrooms now also have optional air-conditioning.
---
Room Prices (April 2013):
Daily Rate: Room + Breakfast: 5000 Sri Lankan Rupees per person per night.
(Approx. 25 Pounds GBP. @ 200 Rupees / GBP)
Weekly Rate: Room + Breakfast: 28000 Sri Lankan Rupees per person per week.
(Approx. 140 Pounds GBP. @ 200 Rupees / GBP)
Optional Air-Conditioning: 2000 Sri Lankan Rupees per bedroom per night.
(Approx. 10 Pounds GBP. @ 200 Rupees / GBP)
Self-Catering Room: Room only: 4000 Sri Lankan Rupees per night + gas.
(Approx. 20 Pounds GBP. @ 200 Rupees / GBP)
Terms: Deposit of 50 Pounds (GBP) per person on booking; balance payable on arrival.
Note. Premlanka Hotel does not accept payments by credit or debit cards. Deposits can be paid most easily by Bank Transfer (BACS).
These prices include breakfast & are based on two people sharing a twin-bedded en suite room with a private balcony. Evening meals & full-board rates are also available. Special discounts for longer stays. By special request, we are sometimes able to offer guests exclusive rental of the whole hotel and its enclosed, landscaped gardens.
Snacks, lunches, refreshments & hot drinks can be purchased from the Premlanka Hotel shop. They can be served on the verandah overlooking Premlanka Hotel's Ayurvedic Garden & landscaped well area.
---
Airport Transfers (Optional):
We can arrange for reliable drivers to meet your flights at Colombo airport. Their routes to and from Premlanka Hotel can include stops at interesting places.
Some flights now land at the new Hambantota Airport. We can arrange to meet your flight there.
The much improved coastal railway from Colombo is now a few miles away. Eventually, it will reach Hambantota and then Kataragama.
---
Excursions and Events (Optional):
We can suggest and organize a range of excursions. We are also happy to help you plan and arrange your own itinerary. Our extensive local knowledge includes the fascinating places and events seldom visited by overseas tourists.
---
Email Address for Bookings:

---
Important: We Do Not Send Spam!
If you receive any "spam" emails which purport to originate from us, please delete them and accept our assurances that they are not sent by us. Unfortunately it is very easy to falsify an email address. We do not send "spam" emails.
---
Welcome | Accommodation | Weddings | Excursions | Festivals | Location | Info | Booking
---
Friendly & relaxing comfort at Premlanka Hotel, Dickwella Beach, Dikwella, Matara, Southern Sri Lanka.
© 2008–21. Prepared and published by Curlew Communications Ltd