>> | Welcome | Accommodation | Weddings | Excursions | Festivals | Location | Info | Booking
---




Premlanka Hotel
Dickwella Beach, Southern Sri Lanka
---
Accommodation at Premlanka Hotel
Relax & enjoy our Sri Lanka experience. Unwind in our friendly, family-run small hotel with modern amenities; Run personally by its English-speaking Sri Lankan lady owner. Set peacefully in landscaped gardens amongst coconut palms, about 400 paces from a nice, sandy beach.
Our five en suite twin-bedded rooms have showers, toilets, ceiling fans, electric points and private balconies. All have twin four-poster "canopy" beds equipped with comfortable mattresses & full mosquito nets.
Our high-ceilinged rooms are cooled by sea breezes. The hotel is naturally cool, helped by the attractive "indoor waterfall garden" built into the stair well. Most bedrooms now also have optional air-conditioning.
Exclusive Use of Premlanka Hotel
We can sometimes offer exclusive use of the whole of Premlanka Hotel and its walled, landscaped gardens. Contact us for details.
Quick link to Premlanka Hotel's Booking Page
---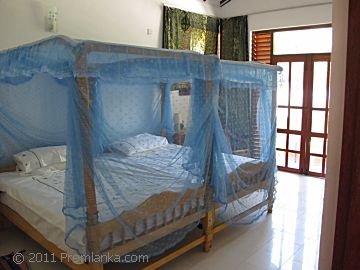 All bedrooms have private balconies overlooking Premlanka's peaceful gardens, where guests may sit and read, watch the many colourful wild birds... or simply relax. The Indian ocean (only about 300 metres away) glints through the coconut trees, adding the gentle soothing sounds of waves.
---
Upstairs, there is a large high-ceilinged guest lounge, leading to a large communal balcony. Downstairs, past the "indoor waterfall" built into the stairwell, the dining room opens onto the gardens.
---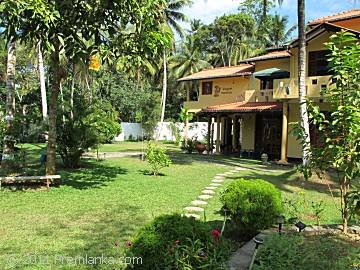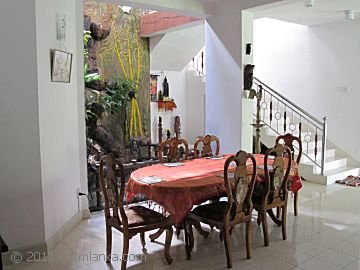 Guests enjoy relaxing in Premlanka's peaceful, secluded walled gardens. The gardens are largely grassed, with trees, flowering shrubs and of course a variety of coconut trees. At night the gardens are lit by coloured lights. There is an outdoor shower to rinse off the sand and seawater after returning from the beach.
---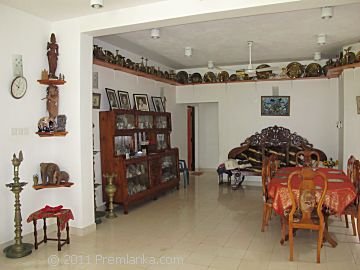 Downstairs, dining & reception rooms.
---
Premlanka Hotel Meals
YouTube: Premlanka Hotel fresh food videos.
We can offer:
"Full Board": Breakfast, light lunch & evening meal
"Half Board": Breakfast & evening meal
Breakfast only
Self-Catering: One bedroom has cooking facilities
All meals are home cooked with fresh food from our hotel gardens, the nearby market or local fishermen. We are currently developing a traditional spice and medicinal herbal garden. Already, the garden has won an award.
---
Premlanka Hotel Shop & Café
Our newly-built hotel shop & café offers light lunches, snacks and drinks.
This shop sells souvenirs, and has a stock of snorkelling & beach equipment for hire.
---
Premlanka Hotel is just a 10 minute walk from Dickwella town, on a quiet lane. The coconut tree covered hillside behind the hotel shields it from the noise and bustle of the main Colombo–Hambantota coast road. This is an ideal base for swimming or scuba diving; visits to temples; fascinating local events and excursions; ...or simply relaxing to the sounds of tropical birds and the ocean.
---
---
Dickwella is a coastal market & fishing town, between Matara and Tangalle; Sometimes spelt Dikwella or Dikwalle; Also called Dikwella South.
Quick link to Premlanka Hotel's Booking Page
---
Welcome | Accommodation | Weddings | Excursions | Festivals | Location | Info | Booking
---
Friendly & relaxing comfort at Premlanka Hotel, Dickwella Beach, Dikwella, Matara, Southern Sri Lanka.
© 2008–21. Prepared and published by Curlew Communications Ltd.