>> | Welcome | Accommodation | Weddings | Excursions | Festivals | Location | Info | Booking
---




Premlanka Hotel
Dickwella Beach, Southern Sri Lanka
---
Sri Pada & Adam's Peak Excursion: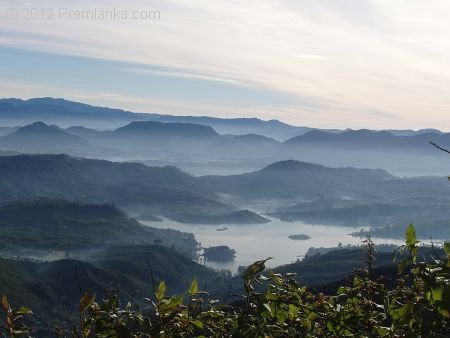 Dawn from Sri Pada.
Click for YouTube Slideshow: Night-time Pilgrimage to Sri Pada (~ 6 mins).
---
Climbing Adam's Peak:
Duruthu Poya in January celebrates the first of the Buddha's three legendary visits to Sri Lanka. It also signals the start of the main three-month pilgrimage season to Sri Pada (The footprint of Buddha) or Adam's Peak (The footprint of Adam – the first man in the Koran and Bible: Some people believe that Sri Lanka is the Garden of Eden).
Ascending Sri Pada is a very interesting and satisfying expedition. Pilgrims visit all year round, often climbing overnight, starting in the early hours at about 1 am, to experience sunrise at the summit. Here, the monks conduct a very moving sunrise ceremony. There is an opportunity to view the site of the sacred footprint.
There is a lighted footpath all the way up. Steps can be uneven in places. There are several little boutiques serving tea, coffee and light refreshments. Because it can be quite cold overnight, it is essential to wear or carry warm clothing that can also be removed during the descent. Suitable footwear is a must, such as trek sandals (with socks for warmth).
Premlanka Hotel can make all of the arrangements for this memorable excursion.
---
Dickwella is a coastal market town, between Matara and Tangalle; Sometimes spelt Dikwella or Dikwalle; Also called Dikwella South.
---
---
Welcome | Accommodation | Weddings | Excursions | Festivals | Location | Info | Booking
---
Friendly & relaxing comfort at Premlanka Hotel, Dickwella Beach, Dikwella, Matara, Southern Sri Lanka.
© 2008–21. Prepared and published by Curlew Communications Ltd.