>> | Welcome | Accommodation | Weddings | Excursions | Festivals | Location | Info | Booking
---




Premlanka Hotel
Dickwella Beach, Southern Sri Lanka
---
Vesak (or Wesak) & Poson Festival Lights (May/June)
During the period around Vesak and Poson, many people hang elaborate, decorative lanterns outside their houses. Householders compete with their neighbours for best lantern display. The lanterns at Beliatta, near Dickwella are usually very impressive.
Sri Lankan families tour these colourful lighted displays before visiting the huge panels decorated with scenes from the life of the Buddha – pandals (thorana), – which are erected. After dark, many of these pandals are transformed by thousands of coloured light-bulbs, programmed to display complicated sequences of traditional patterns. Wayside stalls distribute food and refreshments to the pilgrims and passers by.
---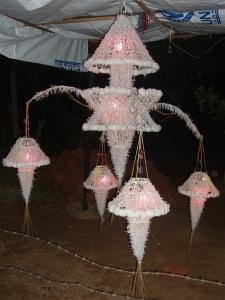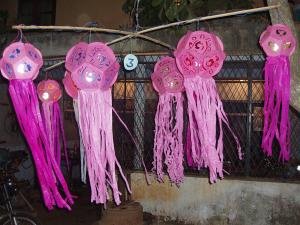 Vesak and Poson Lanterns, 2005.
---
---
Dickwella is a coastal market town, between Matara and Tangalle; Sometimes spelt Dikwella or Dikwalle; Also called Dikwella South.
---
Welcome | Accommodation | Weddings | Excursions | Festivals | Location | Info | Booking
---
Friendly & relaxing comfort at Premlanka Hotel, Dickwella Beach, Dikwella, Matara, Southern Sri Lanka.
© 2008–21. Prepared and published by Curlew Communications Ltd