>> | Welcome | Accommodation | Weddings | Excursions | Festivals | Location | Info | Booking
---




Premlanka Hotel
Dickwella Beach, Southern Sri Lanka
---
Snorkelling & Scuba Diving.
---
Snorkelling: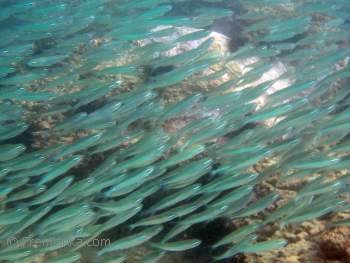 Shoal of Fish, Dickwella Reef.

Fish and Coral, Weligama Reef.
---
Dickwella Beach is an interesting venue for snorkelling. There are some corals and beautiful shoals of little coral reef fish. When the sea is calmer usually between October and April snorkellers can swim out from the beach alongside the rocks taking care not to go too close. Dickwella Beach, reputed to be the safest beach in the south, does not have lifeguards. So, visitors should take sensible precautions and ensure that children are always supervised.
YouTube: Premlanka Hotel, Snorkelling & Scuba videos
Ocean currents vary at different times of the year. Please do follow our advice or that of the knowledgeable local fishermen.
The fishermen will also take you on a snorkelling trip further afield to Japanese Garden — about 30 minutes away by motor boat to Nilwella Bay.
A snorkelling safari to the reef at Weligama (approx 2 hours along the coast by 3-wheeler) makes a very interesting snorkelling trip. Here again we organize with a local fisherman to act as your guide to show off the beautiful varied, corals and coral reef fish. This trip can be combined with visits to local places to suit your interests; such as shopping in Weligama Town or Matara, a visit to historic Galle, Dondra Temple and Lighthouse, visits to several interesting Temples, drives through the rural back roads etc. etc.
---
Scuba Diving:
There are fully-equipped diving centres with qualified dive-masters at the nearby "Dickwella Resort & Spa," and at Unawatuna (west, towards Galle). These cater for Padi qualified divers. They can also provide trial dives and Padi training.
We can arrange longer-distance excursions to Trincomalee, where there are several diving centres, and to Batticaloa. This enables visitors to dive in the fascinating waters around Trincomalee and Batticaloa when diving schools on the Sri Lanka's south-coast are closed between April and November.
---
---
Dickwella is a coastal market & fishing town, between Matara and Tangalle; Sometimes spelt Dikwella or Dikwalle; Also called Dikwella South.
Quick link to Premlanka Hotel's Booking Page
---
Welcome | Accommodation | Weddings | Excursions | Festivals | Location | Info | Booking
---
Friendly & relaxing comfort at Premlanka Hotel, Dickwella Beach, Dikwella, Matara, Southern Sri Lanka.
© 2008–21. Prepared and published by Curlew Communications Ltd