>> | Welcome | Accommodation | Weddings | Excursions | Festivals | Location | Info | Booking
---




Premlanka Hotel
Dickwella Beach, Southern Sri Lanka
---
Sri Lankan New Year Festival:

New Year: Buying New Clothes

New Year: Buying Temple Pujas
Around the 13th, 14th April each year, Sri Lankans celebrate the Sinhalese and Tamil New Year with a family festival; wearing new clothes, performing rituals such as making kiribath, exchanging presents. People observe traditional customs with merrymaking, fun, games and lavish hospitality. In 2012, the New Year festival started on 13th April.
In accordance with widely observed customs, cooking fires are re-lit & the first meal of the New Year is eaten at the auspicious time decreed for that New Year. This auspicious time can be late at night or in the early hours of the morning.
---

New Year: Buying Oil Lamps
For Temple Pujas

New Year: Lighting Lamp
For First Meal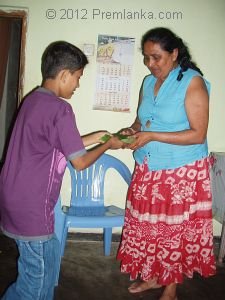 New Year: Money Gift,
Wrapped in Banana Leaf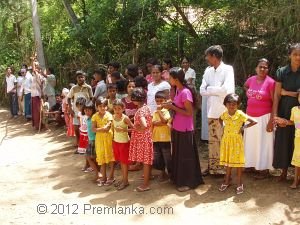 New Year: Public Sports
---
---
Dickwella is a coastal market town, between Matara and Tangalle; Sometimes spelt Dikwella or Dikwalle; Also called Dikwella South.
---
Welcome | Accommodation | Weddings | Excursions | Festivals | Location | Info | Booking
---
Friendly & relaxing comfort at Premlanka Hotel, Dickwella Beach, Dikwella, Matara, Southern Sri Lanka.
© 2008–21. Prepared and published by Curlew Communications Ltd