>> | Welcome | Accommodation | Weddings | Excursions | Festivals | Location | Info | Booking
---




Premlanka Hotel
Dickwella Beach, Southern Sri Lanka
---
Mulkirigala Rock Temple Excursion:
One of the three large reclining Buddhas at Mulkirigala Temple.
---
About 30 km from Premlanka Hotel, this makes a very interesting half day visit. The drive up to the rock temple is through coconut fringed roads. Then climbing up the steps to the summit. On the way you have spectacular views of the surrounding countryside.
Mulkirigala rock (sometimes spelt Mulgirigala or Muhundgiri) is an isolated rock outcrop over 200 metres high which rises out of the palm forest. Seven rock temples are built into the rock at four different levels or terraces. As well as intricately painted rock ceilings and wall paintings illustrating the life of Buddha, three of the temples have enormous reclining Buddha statues.
These temples date from the third century BC. Unlike other temples, they escaped damage during Portuguese rule. The kings of Kandy restored them during the 18th century. In nineteenth century, George Turnour, a British Official, discovered some ancient olas (ancient palm-leaf manuscripts). These provided the key for translating the Mahawamsa or Mahavamsa the "Great Chronicle" which records the early history of Sri Lanka.
---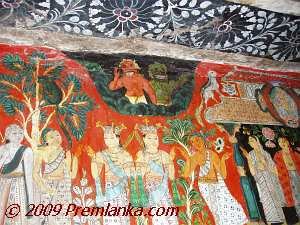 Mulkirigala Temple Paintings.
---
View from Mulkirigala Temple.
---
---
Dickwella is a coastal market town, between Matara and Tangalle; Sometimes spelt Dikwella or Dikwalle; Also called Dikwella South.
---
Welcome | Accommodation | Weddings | Excursions | Festivals | Location | Info | Booking
---
Friendly & relaxing comfort at Premlanka Hotel, Dickwella Beach, Dikwella, Matara, Southern Sri Lanka.
© 2008–18. Prepared and published by Curlew Communications Ltd