>> | Welcome | Accommodation | Weddings | Excursions | Festivals | Location | Info | Booking
---




Premlanka Hotel
Dickwella Beach, Southern Sri Lanka
---
Sri Lankan Elephants: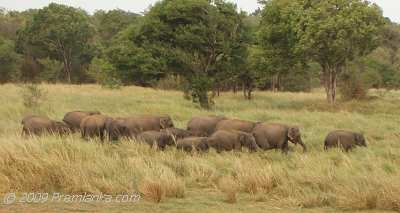 Wild Elephants near Trincomalee.
There are still many wild herds of elephants in Sri Lanka. To see a herd in its natural environment is indeed a wonderful sight, very different from seeing domesticated ones.
Several excursions from Dickwella may be made to visit Elephant reserves and can be either part of a day trip or of longer Safari.
This wild herd can often been seen from the road to Trincomalee; Other wild herds can be seen at Bundala (near Hambantota, about 2 hours from Dickwella) Udawalla (Ratnapura District) or Yalla National Park (about 3 hours away)
---
Temple Elephants
Many Temples have their own elephants, but one Jungle Temple near Kataragama has its own special Poya Day pilgrim: Every Poya Day (Full Moon Day), he comes in from the surrounding Jungle.
Wild Elephant Arriving...
... and Taking a Bath.
Drinks from the Monks Water Tank...
... and Calls on the Head Monk.

... He Expects the Head Monk to Feed Him!
---
Rajah of Kataragama Temple
Rajah is the chief elephant at Kataragama Temple. Like many Temple elephants, he came to the Temple from the elephant orphanage near Kandy. Every day, his keepers take him to bathe in the Holy River at Kataragama.
YouTube video: Rajah, Kataragama Temple Elephant, washing & dressing himself
---
YouTube video: Rajah, Kataragama Temple Elephant, 'praying' at temple shrines
---
---
Dickwella is a coastal market town, between Matara and Tangalle; Sometimes spelt Dikwella or Dikwalle; Also called Dikwella South.
---
Welcome | Accommodation | Weddings | Excursions | Festivals | Location | Info | Booking
---
Friendly & relaxing comfort at Premlanka Hotel, Dickwella Beach, Dikwella, Matara, Southern Sri Lanka.
© 2008–21. Prepared and published by Curlew Communications Ltd